Financial sovereignty of autonomous territories in 20th century Central and Eastern Europe
Palabras clave:
territorio autónomo, autonomía territorial, soberanía financiera, Voivodato de Silesia, Eslovaquia, Rutenia de los Cárpatos, autonomía financiera, Zakarpatia, Checoslovaquia, Segunda República Polaca
Resumen
This article presents the results of comparative legal research concerning the scope of financial sovereignty granted to the autonomous territories of the 20th century Central and Eastern Europe (Silesian Voivodeship, Slovakia and Carpathian Ruthenia) by the Second Polish Republic (1918-1939), the First Czechoslovak Republic (1918-1938) and the Second Czecho-Slovak Republic (1938-1939). Research material includes: constitutional and public financial legal acts of the aforementioned countries for years 1918-1939, as well as English, Polish, Czech, Slovak and Ukrainian scientific publications in the field of legal, historical and economic sciences pertaining to this matter. The main research result is that the scope of financial power granted to the Silesian Voivodeship by the Second Polish Republic was much wider than in the other two autonomous territories. Moreover, Slovakia and Carpathian Ruthenia can be described as apparent autonomies. In fact they were "quasi self-government units".
Fecha de envío / Submission date: 28/04/2021
Fecha de aceptación / Acceptance date: 18/06/2021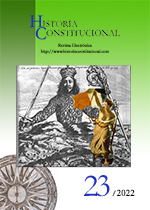 Descargas
Licencia
Derechos de autor 2021 Patryk Kowalski, Monika Bogucka-Felczak
Esta obra está bajo una licencia internacional Creative Commons Atribución-NoComercial 4.0.
Los autores que publican en "Historia Constitucional" ceden a la revista el derecho de primera publicación, así como la facultad de explotar y usar el texto para ulteriores publicaciones.
Los autores deberán comunicar a la revista ulteriores publicaciones de su texto.