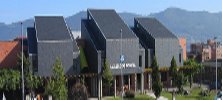 Registration
APPROX. TUITION COST:
EU: 1550 €/year
Non-EU: 3200 €/year.
Ahead of the ordinary time for incription you can fill an
EXPRESSION OF INTEREST FORM
that will be used to send information and announcements concerning the ordinary enrolment procedure.
Special recommended pre-registration and reservation period for

non-resident foreign students, outside the European higher Education Area
Pre-inscription
:
1st March to 3th April 2020
.
Pre-enrolment period in university Master's degree for all students
Pre-inscription: 1st March to 24th June 2020.
Publication of 1st list of admitted applicants
:
Provisional list (
9th July 2020
). Claims to the provisional list: 19 to 14th July 2020. Final list of admited applicants (
20th July 2020
)
Position reservation for 1st list of admited applicants
:
21 to 29th July 2020
(Your application will not be considered further unless you have paid this reservation fee; this amount will be discounted from the final payment).
Matriculation
: The matriculation will be carried out from
4th August to 4th September 2020
, and can be done via the web or in person at the International Postgrade Centre (CIP) offices.
DISTRIBUTION OF CREDITS
Total credits: 120
Number of credits in external practical's: up to 18
Number of optional credits: 36
Number of compulsory credits: 60
Number of credits for Master´s project: 24
Number of credits additional formation: 0 a 12
What do you think?
Send us feedback!