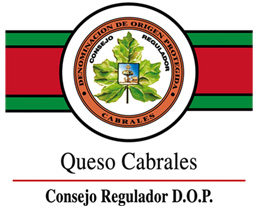 The Regulatory Council of the PDO Cabrales has in its structure a Certification Area which acts as a product certification entity, accredited in compliance with the specific reference standard (UNE-EN ISO / IEC 17065) and verifies, through controls to cheese factories and maturation caves, compliance with the requirements established in the Specification of the PDO "Cabrales":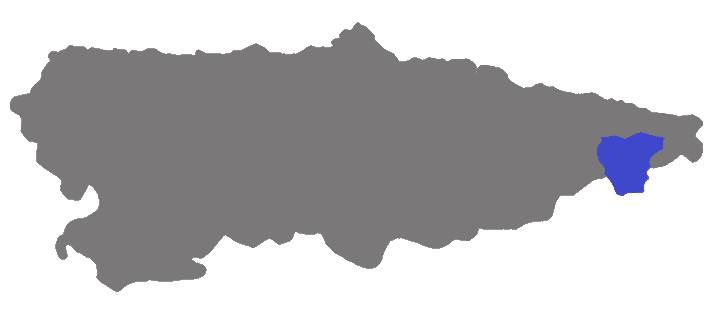 Geographical area
The milk production area suitable for production of PDO Cabrales cheese is made up of the villages of Arangas, Arenas, Asiego, Berodia, Bulnes, Camarmeña, Canales, Carreña, Escobar, Inguanzo, La Molina, La Salce, Ortigueiro, Pandiello, Puertas , Poo, Sotres and Tielve (Municipality of Cabrales), Oceño, Cáraves and Rozagas (Municipality of Peñamellera Alta), nestled in Picos de Europa.
The whole process of elaboration and maturation will take place in the specified areas.
Source material
This blue cheese is made with raw cow, sheep or goat milk, or a mixture of two or three types of milk, which in any case will be whole, without any preservative and with a balanced fat and protein composition according to the different seasonal productive characteristics.
Shape: cylindrical with substantially flat faces
Height: from 7 to 15 centimeters
Weight and diameter: variables
Bark: soft, thin, unctuous and gray with yellow-reddish areas
Pasta: creamy consistency, although with a different cohesion degree. Compact and without eyes. White color and blue-green streaks.
Fat: minimum 45% on the dry extract
Humidity: minimum of 30%
Maduration conditions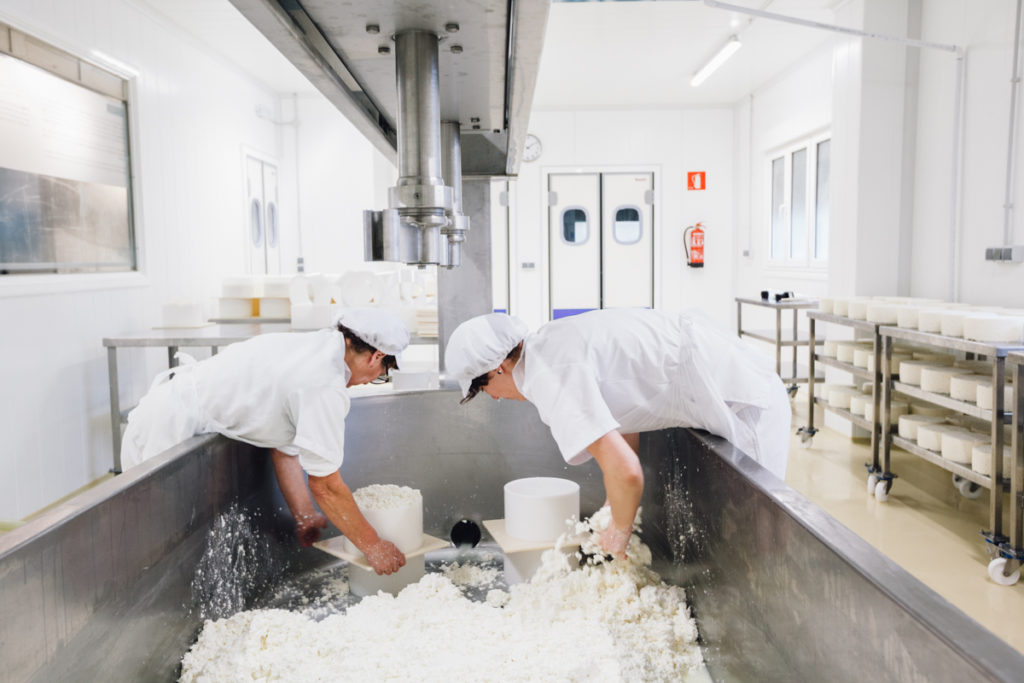 After the self-pressing of the pieces, they are salted, sprinkling with dry salt the upper face, leaving it for 12 hours, after which it is turned and salted on the other side, leaving it another twelve hours.

After a first maturation period of about 15 days, the pieces are transferred to the natural caves where maturation is carried out for at least two months.
Addition of Penicillium spores is not necessary, as it happens in most blue cheeses, since their sowing occurs naturally and spontaneously in the ripening caves, in which there are also humidity and temperature conditions that favor its development.
Maturation caves are between 800 and 1,200 meters high, with the highest altitude being better. Conditions that a cave must meet to be appropriate to the Cabrales maturation can be summarized:
It must be deep and with its entrance facing north
Have, at least, two openings to the outside (the access and another one that acts as a vent) so that an air stream is established inside.
Have a stream of water
In this way, air in the cave will move weakly and will have a humidity higher than 90%, keeping the temperature between 6 and 10 ° C. To achieve proper maturation, cheese pieces must remain in the cave for 2 to 5 months, placed on wooden shelves, and during that time periodically flips and cleanses the crust.
In the past, cheeses were wrapped in Acer pseudoplatanus leaves. However, currently, PDO Cabrales cheeses are packaged in food wrapping paper with printed leaves.