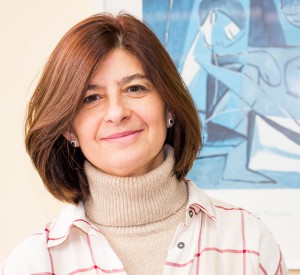 Position: ASSOCIATE PROFESSOR (PhD in Economy).
Department: APPLIED ECONOMICS
Field: Applied Economics.
Address: Universidad de Oviedo. Departamento de Economía Aplicada. Facultad de Economía y Empresa. Edificio Departamental, 2º Planta. Campus de El Cristo.
33006 Oviedo. Asturias (España).
Email: lcabie@uniovi.es
Phone: (+34) 985 103 718
Laura Cabiedes studied Economic and Business Sciences (General Economics Branch) at the University of Oviedo (winning the "End of Course" Award). She took her Master's degree in Advanced European Studies (Programme of European Economic Studies) at the Collège d'Europe, Bruges (year 1986–87). She earned a PhD in Economic and Business Sciences at the University of Oviedo (1992, Extraordinary Prize), winning an award for research on the Economics of Health from Bayer Pharmaceutical Chemicals (1992). She has been visiting professor at the École Supérieure des Sciences Commerciales d'Angers (1990–2000); Director of Studies and Programmes at the Menéndez Pelayo International University (1999); Director of Budget and Heritage for the Principality of Asturias (2000–2001); visiting researcher at the Maison des Sciences de l'Homme (Nantes, March–May 2010). Honorary posts include Member of the Advisory Council on Health to the Government of Principality of Asturias since 2013.
Her areas of interest are the economics of health, particularly the pharmaceutical sector (the sector's structure and the spread of pharmaceutical innovation), and comparative social policies. She has recently started to collaborate with the Sociology of Food Research Group at the University of Oviedo, where she is studying the restaurant sector in Spain (basically the sector's structure, from an industrial economics perspective) according to the interdisciplinary approach that has characterized her research. She has carried out research work for the European Commission and several Spanish institutions.
She has published articles, among others, in the following journals: International Journal of Health Services, Social Science & Medicine, Journal of European Social Policy, Farmacoeconomía, Revista de Economía Aplicada, Estudios de Economía Aplicada, Revista Española de Economía de la Salud, Revista de Administración Sanitaria, Revista Española de Salud Pública, L'Assistenza Sociale, Revue Française des Affaires Sociales, Presupuesto y Gasto Público, Panorama Social, Cuadernos de Información Económica, The Business Review, Gaceta Sanitaria, Revista de Economía Mundial and Expert Review of Quality of Life in Cancer Care.
Research Fields
Project participation
Alimentación y estructura social. Análisis de las desigualdades sociales en España (2015-2019)

Proyectos I+D+I del Programa Estatal de Investigación. Ref. CSO2015-68434-R
IP.: Isabel García Espejo
Convergencia y divergencias alimentarias en Europa. Un análisis comparado de la desestructuración alimentaria en Gran Bretaña y España (2009-2012)

Plan Nacional I+D+I. Refer. CSO2009-07351
IP.: Cecilia Díaz Méndez
Publications
Zapico I.; Cabiedes, L. e Iglesias, M.T. (2016): "Patient access to new oncology medicines in the Spanish hospital setting: Exploring explanatory factors through a Cox regression model", Expert Review of Quality of Life in Cancer Care (aceptado para su publicación en papel y disponibilidad online inminente).
Cabiedes, L. (2016): "Icelandic and Spanish citizens before the crisis: Size matters… and institutions too", Revista de Economía Mundial; aceptado para el nº 43 (Septiembre 2016) [Social Sciences Citation Index]
Cabiedes, L.  (2013): "A propósito de la excepcionalidad de las innovaciones farmacológicas para el cáncer", Gaceta Sanitaria, vol. 27, nº 1, enero-febrero, pp.84-88 (2013) [Social Sciences Citation Index]
Cabiedes, L. (2011): "Desigualdades territoriales en materia sanitaria en el SNS: entre la diversidad deseable y las desigualdades evitables", Medicina Preventiva, vol. XVII, nº 4, pp. 5-8 (2011).
Guillén, A. M. y Cabiedes, L. (2003): "Reforming Pharmaceutical Policies in the European Union: A ´Penguin Effect`?", International Journal of Health Services, vol. 33, nº 1, pp. 1-28 (2003) [Social Sciences Citation Index]